4 NEW Heavy Duty 12-16.5 Skid Steer Tires & Wheels for New Holland 12X16.5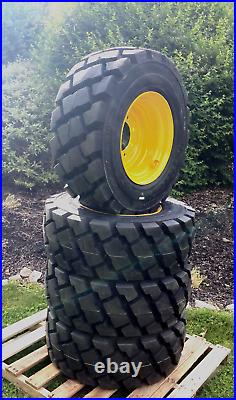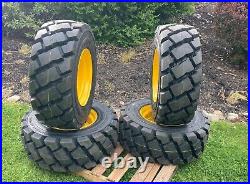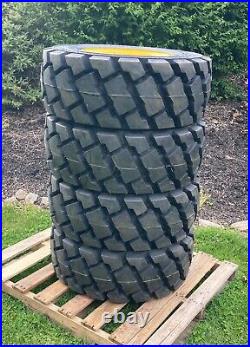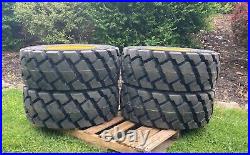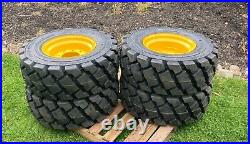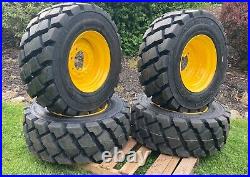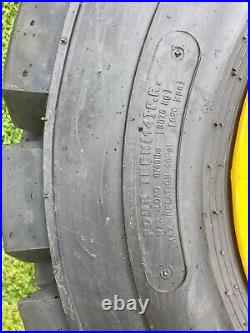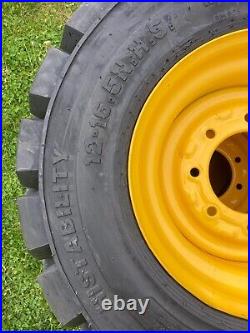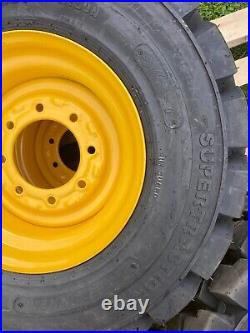 4 NEW Heavy-Duty Forerunner SKS-7 12x16.5 14 ply Skid Steer Tires mounted on Rims - Non-Directional. This is one complete set of 4 tires mounted on yellow wheels for New Holland & more. Ready to put on your machine & go!
For New Holland L175, L221, L223, L225 & L230 and will also fit many other machines. Vailable in other rim colors, offsets, and lug configurations.
Industrial LOADER tires FOR HEAVY DUTY applications. Greater stability and puncture resistance through heavy duty sidewall and lugs with more depth. Pattern Suitable for extreme surfaces and all terrains.
Heavier ply ratings for severe construction sites. The Heavy Duty non-directional tread pattern increases road holding.
Heavy duty sturdy contour provides high load. Heavy duty tires with 44/32 tread depth with a load capacity of 6780lb. 14 ply heavy duty tires with rim guard for sidewall protection. Aggressive heavy duty non directional tread pattern suitable for extreme surfaces.
Tires with rims weigh approximately 140 pounds each. Tires are mounted on standard 16.5 X 9.75 X 8 rims.
These tires are mounted on yellow rims for New Holland - offset measurement to center disc - 6-3/4 inches from outside - 3-7/8 inches from inside. Plus, a tire mounted on the rim increases the width by about 1/2 inch.
The rim has a standard 8 lug 8-inch on center bolt circle design with 6-inch center hole. Set comes mounted standard with two left and two rights so you can put on your machine and have all treads going in the right direction and all the valve stems on the outside. The rims have a valve stem protection shield.
These rims can be mounted either way... With valve stem inside or outside. Sometimes folks switch the rims around if needing to have the wheels further away from the machine for tracks or if using in width restricted areas. I can have these tires foam filled for an additional cost if needed.
600 pounds total weight to the set of 4. If you want the tires foam filled it will take a week or so till ready to go. Rims are also available in other colors and lug patterns.
If you have any questions or need any specific size, please let me know. Narvon is located is southeastern PA (between Harrisburg & Philadelphia).