4-NEW 10-16.5 HD Skid Steer Tires/Wheels/Rims for New Holland & more 12PLY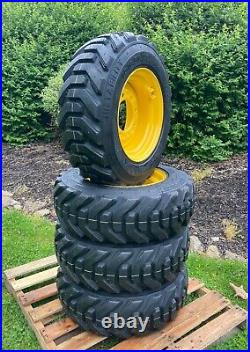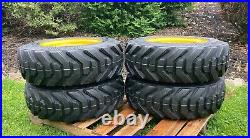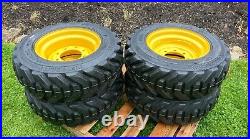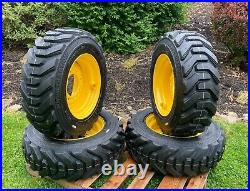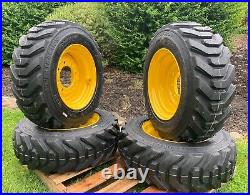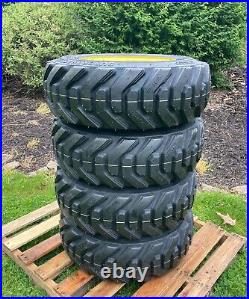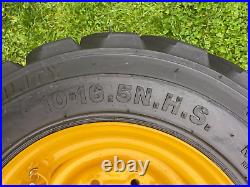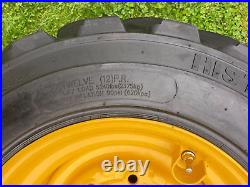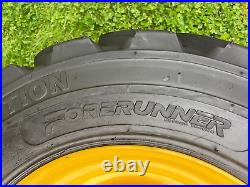 Set of 4 New 10x16.5 Forerunner SKS-8 Skid Steer Tires mounted on Rims - 12PR. For New Holland LX565, LX665, L160, LS160, L170, LS170, L213, L215, L218, L220 and will also fit many other machines.
Vailable in other rim colors, offsets, and lug configurations. Suitable for all brands sliding loader and all terrains. High lug to void tread ratio not only is more puncture-proof, but also increases the stability and prolongs the tread life. Full ply and robust construction reduce the risk of damage. Excellent abrasion resistance with modern design. 12 ply HD Forerunner SKS-8 tires with rim guard for sidewall protection. Tires with rims weigh approximately 80 pounds each. These tires and rims can be used with tracks.
Standard tread depth, 1/2" deep in center - 1" deep towards the outside. The tires are mounted on standard 16.5 X 8.25 X 8 rims. Aggressive R-4 traction tread - High lug-to-void ratio. The rim offset is 4-inches on valve stem side with 5-inch backspacing.
Rims available for many other machines... I can have these tires foam filled for an additional cost if needed. 600 pounds total weight to the set of 4. If you want the tires foam filled it will take a week or so till ready to go.
Narvon is located is southeastern PA (between Harrisburg & Philadelphia).