4-10-16.5 Forerunner Skid Steer Tires & Rims for New Holland LX565, LX665-10X16.5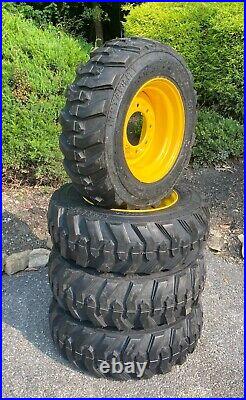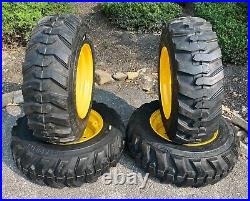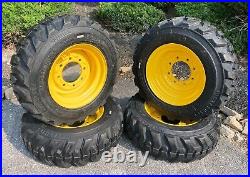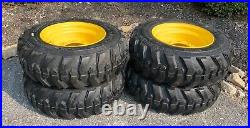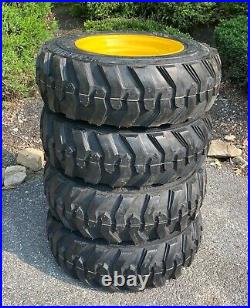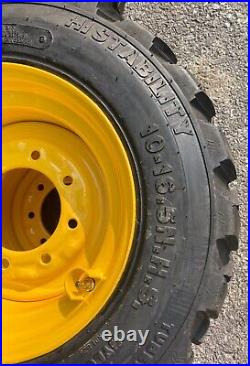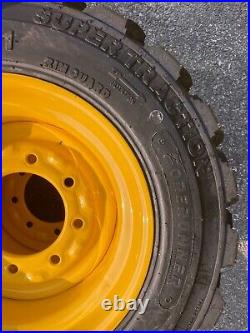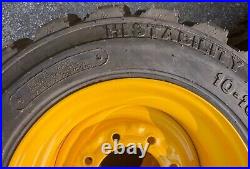 SET of 4 NEW 10X16.5 FORERUNNER SKS-1 Skid Steer Tires & Wheels - 12PLY. This is one complete set of 4 tires mounted on yellow rims for New Holland skid steers. Ready to put on your machine & go! For New Holland LX565, LX665, L160, LS160, L170, LS170, L213, L215, L218, L220 and will also fit many other machines.
A vailable in other rim colors, offsets and lug configurations. SKS-1 has been designed as an off-road economy tire; popular standard R-4 tread pattern design.
Directional and self-clean out tread design for an improved traction performance. Classic tread pattern suitable for the most popular use. Tapering tread increases in depth to the outside edge.
Tires with wheels weigh approximately 75 pounds. We also have heavy duty tires in stock, and foam fill options available. These rims are 8 lug and have standard 8" on center bolt circle design with 6" center hole.
The rim offset is 4" on the valve stem side with 5" backspacing, plus the tire sidewall increases the width by about 1/2. The 8-lug rim design fits most skid steers. Bobcat, Case, CAT, Daewoo, Gehl, John Deere, Mustang, New Holland, Scat Trak & Thomas made most of their machines with an 8-lug rim.
The main difference is the offset does vary between the different manufacturers but most of the rims do interchange. This set comes mounted standard with two left and two rights so you can put on your machine and have all treads going in the right direction and all the valve stems on the outside. The rims have a valve stem protection shield. 16.5 X 8.25 X 8 rims.
Narvon is located is southeastern PA (between Harrisburg & Philadelphia).